The influence of the African diaspora on democracy-building processes in countries of residence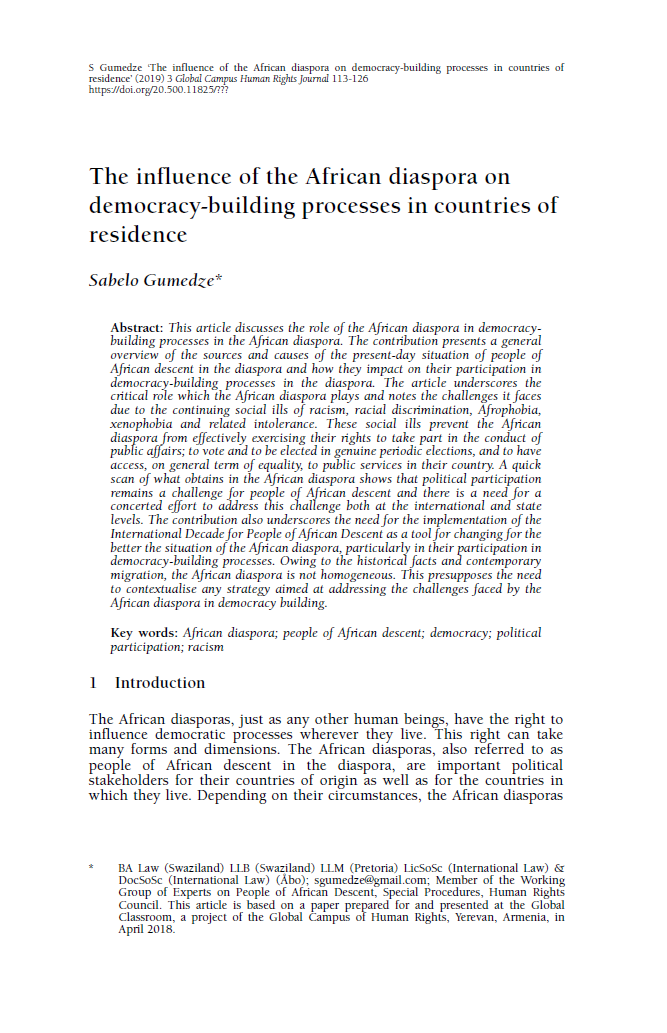 Abstract
This article discusses the role of the African diaspora in democracybuilding processes in the African diaspora. The contribution presents a general overview of the sources and causes of the present-day situation of people of African descent in the diaspora and how they impact on their participation in democracy-building processes in the diaspora. The article underscores the critical role which the African diaspora plays and notes the challenges it faces due to the continuing social ills of racism, racial discrimination, Afrophobia, xenophobia and related intolerance. These social ills prevent the African diaspora from effectively exercising their rights to take part in the conduct of public affairs; to vote and to be elected in genuine periodic elections, and to have access, on general term of equality, to public services in their country. A quick scan of what obtains in the African diaspora shows that political participation remains a challenge for people of African descent and there is a need for a concerted effort to address this challenge both at the international and state levels. The contribution also underscores the need for the implementation of the International Decade for People of African Descent as a tool for changing for the better the situation of the African diaspora, particularly in their participation in democracy-building processes. Owing to the historical facts and contemporary migration, the African diaspora is not homogeneous. This presupposes the need to contextualise any strategy aimed at addressing the challenges faced by the African diaspora in democracy building.
Keywords
migrations

,
Africa

,
democracy

,
political participation

,
racism
Citation
S Gumedze 'The influence of the African diaspora on democracy-building processes in countries of residence' (2019) 3 Global Campus Human Rights Journal 113-126 http://dx.doi.org/10.25330/1428
Collections
Version History
You are currently viewing version 2 of the item.
| Version | Editor | Date | Summary |
| --- | --- | --- | --- |
| | | 2023-01-24 11:37:26 | doi_up |
* Selected version