The Armenian community in Iran: issues and emigration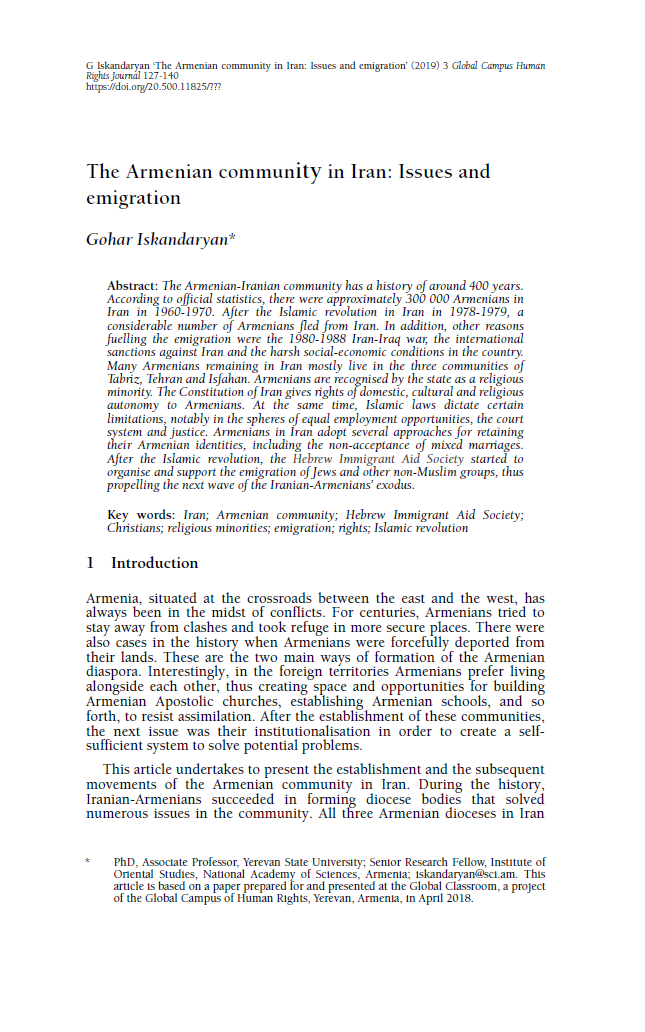 Abstract
The Armenian-Iranian community has a history of around 400 years. According to official statistics, there were approximately 300 000 Armenians in Iran in 1960-1970. After the Islamic revolution in Iran in 1978-1979, a considerable number of Armenians fled from Iran. In addition, other reasons fuelling the emigration were the 1980-1988 Iran-Iraq war, the international sanctions against Iran and the harsh social-economic conditions in the country. Many Armenians remaining in Iran mostly live in the three communities of Tabriz, Tehran and Isfahan. Armenians are recognised by the state as a religious minority. The Constitution of Iran gives rights of domestic, cultural and religious autonomy to Armenians. At the same time, Islamic laws dictate certain limitations, notably in the spheres of equal employment opportunities, the court system and justice. Armenians in Iran adopt several approaches for retaining their Armenian identities, including the non-acceptance of mixed marriages. After the Islamic revolution, the Hebrew Immigrant Aid Society started to organise and support the emigration of Jews and other non-Muslim groups, thus propelling the next wave of the Iranian-Armenians' exodus.
Keywords
Armenians

,
Iran

,
Jews

,
religious minorities

,
Christianity

,
Islam

,
migrations

,
minority rights
Citation
G Iskandaryan 'The Armenian community in Iran: Issues and emigration' (2019) 3 Global Campus Human Rights Journal 127-140 http://dx.doi.org/10.25330/1429
Collections
Version History
You are currently viewing version 2 of the item.
| Version | Editor | Date | Summary |
| --- | --- | --- | --- |
| | | 2023-01-24 11:39:02 | doi_up |
* Selected version