Hydropower plants in the Western Balkans: Protecting or destroying nature?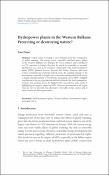 Publisher
Global Campus Human Rights
Abstract
Urgent action is needed to save humanity from the consequences of global warming. The energy sector, especially coal-fired power plants in the Western Balkans, are amongst the worst polluters and contributors to CO2 emissions in Europe, therefore the switch to renewables is essential. Hydropower was seen as an attractive replacement with 3,000 hydropower plants (HPPs) planned between Slovenia and Turkey. However, with most of these earmarked for protected natural areas, the resulting damage to the environment, especially to fragile river ecosystems and dependent biodiversity, is hugely disproportionate to investment, particularly given HPPs' negligible contribution to electricity production and lack of benefits for local communities. Activists and scientists across the Balkans have succeeded to some extent in highlighting the negative impact of HPPs. However, governments in the region must do more to diversify into alternative renewable energy sources and to protect nature for future generations.
Keywords
renewable energy sources

,
environment

,
Western Balkans

,
agriculture
Citation
Ana Funa. "Hydropower plants in the Western Balkans: Protecting or destroying nature?" (2022) 6 Global Campus Human Rights Journal 223-234 http://doi.org/10.25330/2517
Collections