Editorial: the influence of diasporas on democracy-building processes: behavioural diversity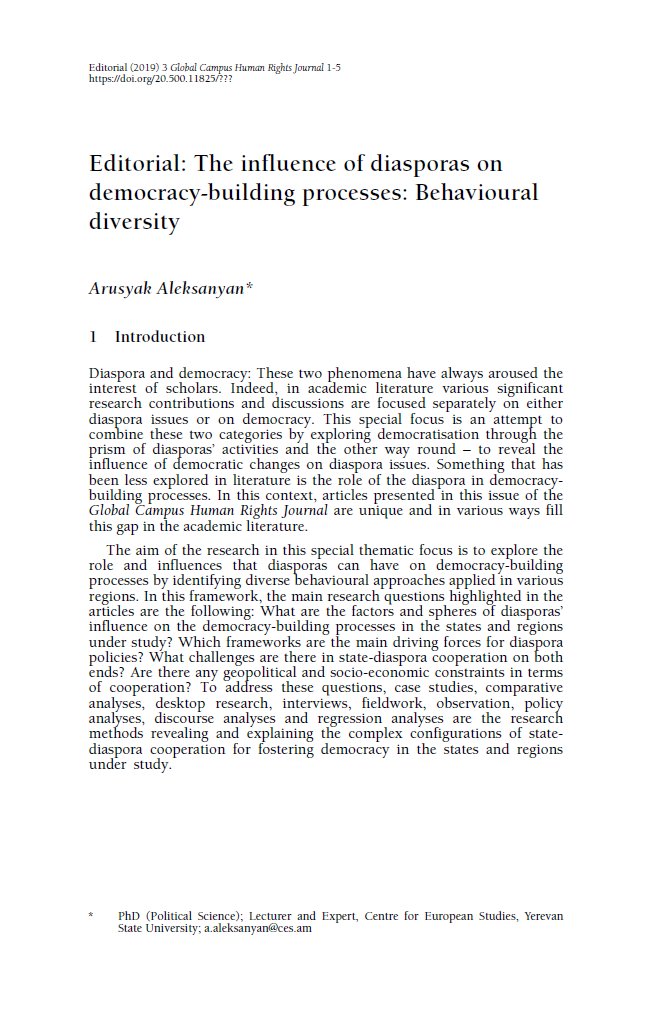 Abstract
Diaspora and democracy: These two phenomena have always aroused the interest of scholars. Indeed, in academic literature various significant research contributions and discussions are focused separately on either diaspora issues or on democracy. This special focus is an attempt to combine these two categories by exploring democratisation through the prism of diasporas' activities and the other way round – to reveal the influence of democratic changes on diaspora issues. Something that has been less explored in literature is the role of the diaspora in democracybuilding processes. In this context, articles presented in this issue of the Global Campus Human Rights Journal are unique and in various ways fill this gap in the academic literature. The aim of the research in this special thematic focus is to explore the role and influences that diasporas can have on democracy-building processes by identifying diverse behavioural approaches applied in various regions.
Keywords
migrations

,
democratisation

,
democracy

,
dive
Citation
Editorial of Special Focus (2019) 3 Global Campus Human Rights Journal 1-5 http://dx.doi.org/10.25330/1418
Collections
Version History
You are currently viewing version 2 of the item.
| Version | Editor | Date | Summary |
| --- | --- | --- | --- |
| | | 2023-01-24 10:40:43 | doi_up |
* Selected version