Securitisation in the Arab region: A new form of kinship relations?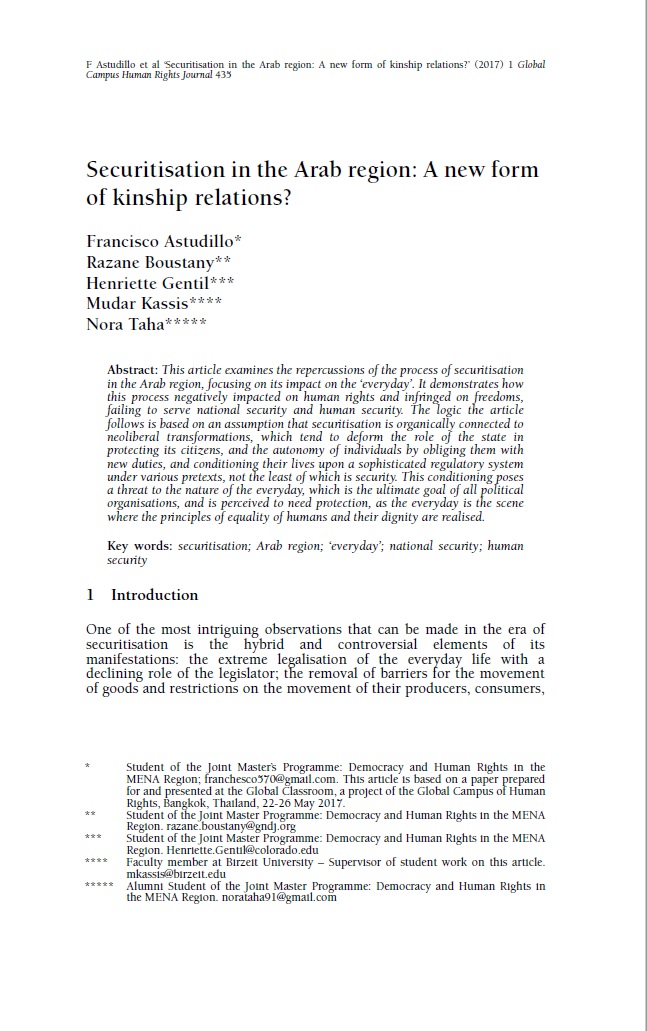 Abstract
This article examines the repercussions of the process of securitization in the Arab region, focusing on its impact on the 'everyday'. It demonstrates how this process negatively impacted on human rights and infringed on freedoms, failing to serve national security and human security. The logic the article follows is based on an assumption that securitisation is organically connected to neoliberal transformations, which tend to deform the role of the state in protecting its citizens, and the autonomy of individuals by obliging them with new duties, and conditioning their lives upon a sophisticated regulatory system under various pretexts, not the least of which is security. This conditioning poses a threat to the nature of the everyday, which is the ultimate goal of all political organisations, and is perceived to need protection, as the everyday is the scene where the principles of equality of humans and their dignity are realised. Key words: securitisation; Arab region; 'everyday'; national security; human security
Keywords
social security

,
Arab countries
Citation
F Astudillo et al 'Securitisation in the Arab region: A new form of kinship relations?' (2017) 1 Global Campus Human Rights Journal 435 http://dx.doi.org/10.25330/1467
Collections
Version History
You are currently viewing version 2 of the item.
| Version | Editor | Date | Summary |
| --- | --- | --- | --- |
| | | 2023-01-26 16:57:42 | doi_udate |
* Selected version