Iniciativas de presupuesto con perspectiva de género en Argentina. La trama detrás de la experiencia local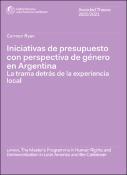 Publisher
Global Campus of Human Rights
Abstract
Between 2015 and 2021, gender budgeting went from being a tool used by a pioneering municipality in gender policies to being part of Argentina's federal government's plan of action and a policy in development for fourteen provinces. The national initiative, and the subnational experiences developed before and after it, are added to a concert of international voices that speak to us about the potential of incorporating the gender perspective into public accounts. Throughout this thesis, the plots behind this recent gender budgeting experience are surveyed under the developments both by international human rights law, academia, and comparative experiences. Keywords: gender budgeting; gender equality; feminism; fiscal policy. _________________________________________________________________________________

Entre 2015 y 2021 el Presupuesto con Perspectiva de Género, pasó de ser una herramienta utilizada por un municipio pionero en políticas de género, a ser agenda del Estado Nacional y una política en desarrollo para catorce provincias. La iniciativa nacional, y las experiencias subnacionales desarrolladas antes y después de ella, se suman a un concierto de voces internacionales que nos hablan sobre la potencialidad de incorporar la perspectiva de género a las cuentas públicas. A lo largo de esta tesis se relevan las tramas detrás de esta reciente experiencia de presupuesto con perspectiva de género a la luz de los alcances de la categoría desarrollada tanto por el derecho internacional de los derechos humanos, la academia y las experiencias comparadas. Palabras clave: presupuestos con perspectiva de género; igualdad de género; feminismo; política fiscal.
Description
Global Campus - Latin America-Caribbean.

LATMA - Master's Programme in Human Rights and Democratisation in Latin America and the Caribbean, University of San Martin (Buenos Aires).

Second semester University: UBA – CONICET (Argentina).
Keywords
gender

,
equality

,
Argentina

,
fiscal policy

,
feminism
Collections