Access to Healthcare for Persons with Albinism in Ghana: A Human Rights Approach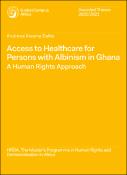 Publisher
Global Campus of Human Rights
Abstract
The realisation of the right to health is crucial to the survival of everyone, including persons with albinism in Ghana. Access to healthcare facilities, goods and services is fundamental to the enjoyment of this right which is closely connected to the enjoyment of the right to life by persons with albinism. Against the backdrop of international human rights law, this study critically examines Ghana's domestic legal frameworks and institutional arrangements for respecting, promoting, protecting and fulfilling the rights to health for persons with albinism. It identifies barriers hindering access to healthcare and enjoyment of the right to health, including legal and policy constraints, lack of healthrelated information, reasonable accommodation, and harmful practices. The study proposes legal, policy and institutional reforms and intensive public education to address these barriers. It draws on best practices from other African countries to realise the right to health of persons with albinism.
Description
Global Campus - Africa.

HRDA - Master's Programme in Human Rights and Democratisation in Africa, University of Pretoria.

Second semester Universities: University of Venda (South Africa) and University of Pretoria
Keywords
right to health

,
albinism

,
Ghana
Collections