Diaspora and democratisation: diversity of impact in Eastern Partnership countries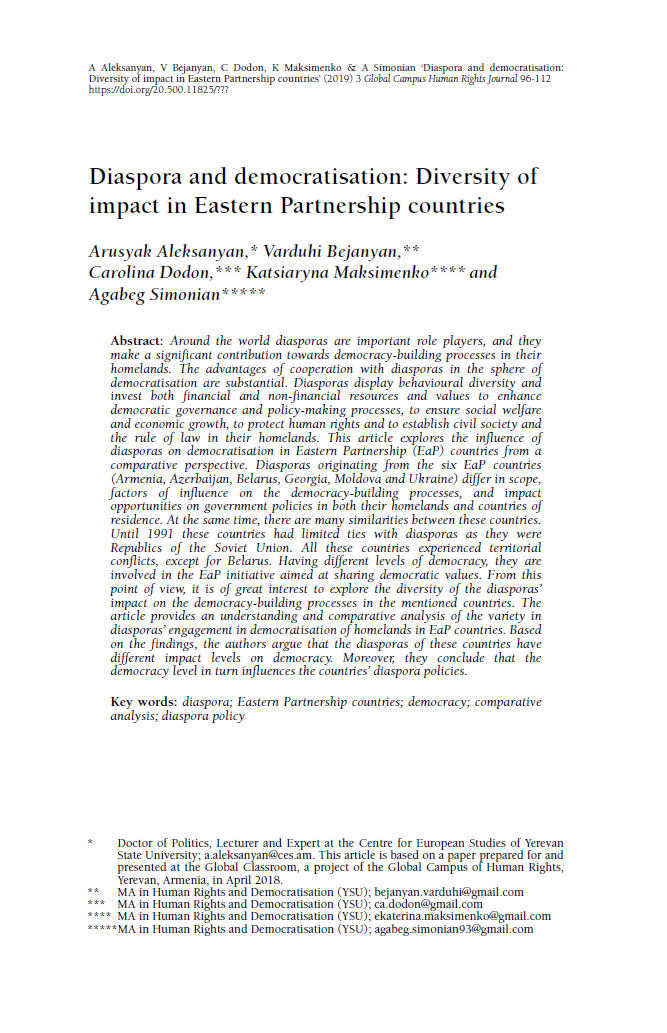 Abstract
Around the world diasporas are important role players, and they make a significant contribution towards democracy-building processes in their homelands. The advantages of cooperation with diasporas in the sphere of democratisation are substantial. Diasporas display behavioural diversity and invest both financial and non-financial resources and values to enhance democratic governance and policy-making processes, to ensure social welfare and economic growth, to protect human rights and to establish civil society and the rule of law in their homelands. This article explores the influence of diasporas on democratisation in Eastern Partnership (EaP) countries from a comparative perspective. Diasporas originating from the six EaP countries (Armenia, Azerbaijan, Belarus, Georgia, Moldova and Ukraine) differ in scope, factors of influence on the democracy-building processes, and impact opportunities on government policies in both their homelands and countries of residence. At the same time, there are many similarities between these countries. Until 1991 these countries had limited ties with diasporas as they were Republics of the Soviet Union. All these countries experienced territorial conflicts, except for Belarus. Having different levels of democracy, they are involved in the EaP initiative aimed at sharing democratic values. From this point of view, it is of great interest to explore the diversity of the diasporas' impact on the democracy-building processes in the mentioned countries. The article provides an understanding and comparative analysis of the variety in diasporas' engagement in democratisation of homelands in EaP countries. Based on the findings, the authors argue that the diasporas of these countries have different impact levels on democracy. Moreover, they conclude that the democracy level in turn influences the countries' diaspora policies.
Keywords
migrations

,
Eastern Partenrship countries

,
democracy

,
comparative politics
Citation
A Aleksanyan, V Bejanyan, C Dodon, K Maksimenko & A Simonian 'Diaspora and democratisation: Diversity of impact in Eastern Partnership countries' (2019) 3 Global Campus Human Rights Journal 96-112 http://dx.doi.org/10.25330/1427
Collections
Version History
You are currently viewing version 3 of the item.
| Version | Editor | Date | Summary |
| --- | --- | --- | --- |
| | | 2023-01-24 11:35:36 | doi_up |
* Selected version