The Right to Inclusive Education for Children with Learning Disabilities in Africa: Lessons from Kenya and Uganda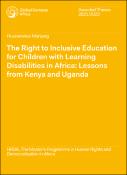 Publisher
Global Campus of Human Rights
Abstract
Ensuring that children, including those with learning disabilities, have access to quality education is essential, and accessing inclusive education is a critical aspect of achieving this goal. Inclusive education strives to foster the participation, engagement and achievement of every learner in the classroom, regardless of their background or ability. It recognises that diversity is an asset and aims to create a supportive environment for all students. African state parties to the African Charter on the Rights and Welfare of the Child (ACRWC) and the United Nations Convention on the Rights of Persons with Disabilities (CRPD) have an obligation under articles 11(3) of the ACRWC and 24 of the CRPD to ensure the full realisation of inclusive education for children with learning disabilities. The study examines general trends in legislation and policy development across the continent. It draws lessons from the experience of Kenya and Uganda by interrogating the national legislation and policy, jurisprudence and field research to assess the extent to which inclusive education is being implemented. The study identifies barriers that children with learning disabilities face in accessing education, including institutional, informational, environmental and sociocultural barriers. The study proposes recommendations to strengthen the domestication of inclusive education; this includes the ratification of the Protocol to the African Charter on the Rights of Persons with Disabilities, the provision of adequate resources and infrastructure, developing flexible curriculums and disaggregated data collection.
Description
Global Campus - Africa.

HRDA - Master's Programme in Human Rights and Democratisation in Africa, University of Pretoria.

Second semester University: University of Pretoria
Keywords
children with disabilities

,
education

,
right to education

,
Africa

,
Kenya

,
Uganda

,
African Charter on the Rights and Welfare of the Child

,
Convention on the Rights of Persons with Disabilities
Collections